Keith Boak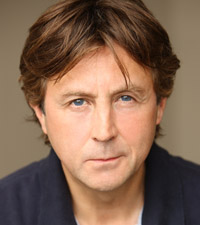 Director
Keith Boak is a BAFTA and IVCA award winning Director. Keith was born in Edinburgh and graduated in Law at the University of Bristol. He has a Masters degree in Law (Specialization in Human Rights) from UCLA and is a licensed US Attorney. He trained as Assistant Director at the Royal Court Theatre, Riverside Studios the Royal National Theatre, and Leicester Haymarket, winning a Scotsman Fringe First Award at Edinburgh for IN NOMINE PATRIS and assisting Directors including Danny Boyle, Sir Richard Eyre, Dr Jonathan Miller and Max Stafford Clark. He directed 'MILKWOOD BLUES' at the Lyric Theatre Hammersmith, 'THE TRAVELLER' (with David Threlfall) and 'INDIGO' (with Dougray Scott) at the Almeida Theatre.
Film / Television:
Keith was original pilot Director on the widely acclaimed BBC revival of the classic science-fiction series DR WHO (BAFTA best TV drama series 2005). For C4, he directed in New York and London for the transatlantic series NY-LON and his first film IMPACT EARTH was broadcast on Discovery/ C5 in 2008.
His extensive TV directing credits include VILLAGE BY THE SEA (from Anita Desai's novel set in Sri Lanka) CASE HISTORIES, SILENT WITNESS, HOTEL BABYLON, DEATH IN PARADISE, NEW TRICKS, STRICTLY CONFIDENTIAL, THIEFTAKERS, CITY CENTRAL, WATERLOO ROAD, LONDON'S BURNING, THE KNOCK, OUT OF THE BLUE, PIE IN THE SKY, SUNBURN, STAYING ALIVE, WOKENWELL, MERSEYBEAT, THE BILL, HOLBY CITY, CASUALTY, EASTENDERS and the single drama SUBSTANCE. He directed the documentary "RUNNING THE BULLS and the short films THESE COLOURS DON"T RUN, NIGHTCLUB, FIST OF THE DRAGONFLY, AFTER THE PARTY, THE RETURN OF NEVILLE DEDD, AMENDMENT and THE LOSER.
In 2012 Keith directed the cybercrime film 'Companies like Yours' for The Edge Picture Company winning the IVCA Best Director Award 2012 and 2 Gold Best Film awards at the 2012 New York International Film & TV Festival.
(viewable at – http://www.edgepicture.com/films/Item/companies-like-yours.html)
Keith currently lives and works in the United States where he has directed on TURN : WASHINGTON'S SPIES (AMC), RECTIFY (Sundance Channel) OUTSIDERS (WGN America), KRYPTON ( SYFY) and FOR THE PEOPLE (ABC) .
Keith is a licensed US Attorney and has worked at both the LA County and Riverside County Public Defenders Offices. Additionally, he has studied Criminal Investigation at Santa Monica College and Private Investigation at California State University Fullerton. He is a case analyst for the California Innocence Project and in 2018 produced and directed a short film focused on Kiera Newsome (imprisoned for 18 years) in support of the Innocence Project campaign to free the CA12. Kiera was granted clemency on Christmas Day 2018.